You can vote at Dodger Stadium this November
LeBron James and the Dodgers are turning Chavez Ravine into a voting center.
Assuming the post office still exists in a few months, all registered voters in Los Angeles County will receive vote-by-mall ballots ahead of the November election. But if you still want to do it the old-fashioned way? Well, the Dodgers are here to help.
On Thursday, the team announced that Dodger Stadium will be open to all registered voters in the county for five days leading up to the November 3 presidential election. And unlike Dodger games, parking will be totally free. UPDATE (8/31): Both the Forum and Staples Center will serve as voting centers, as well.
Unlike previous elections, where voters were assigned to small polling places in their neighborhood, the county has now transitioned to a larger voting center model. So even if you don't live in Echo Park or Elysian Heights, you can still vote at the stadium as long as you're an L.A. County resident and registered to vote (check your status here). As far as additional day-of logistics, the team says it'll announce those details at a later date, but for now it says it'll follow all CDC and Public Health guidelines for social distancing (which makes us think voting may just occur in the parking lot and not in the stadium itself).
To make this happen, the team joined forces with Lakers star LeBron James and his organization More Than a Vote, an organization that fights Black voter suppression (pitcher David Price counts himself as a member, too).
"I may still be new to L.A. but didn't take long for me to learn how special the relationship is between the Dodgers and Lakers," said James in a statement. "We are all in this together. I'm really proud we were able to help the Dodgers become the first MLB stadium to open for voting. This is exactly why we created More Than a Vote. A lot of us now working together and here for every team who wants to follow the Dodgers lead and turn their stadium into a safer place for voting."
For many Angelenos, this may be the brightest brush with Chavez Ravine this year: The Dodgers are currently playing at the stadium sans fans (plastic cutouts aside) and otherwise the parking lot has served as a massive city-run free testing site.
Paper Rice – Spring Rolls & Bowls
20 W Union St | Pasadena, CA 91103
The new Pasadena spot specializes in build-your-own gỏi cuốn, or Vietnamese spring rolls. Proteins like charbroiled nem, or pork sausage, braised pork belly, lemongrass chicken, and soy garlic tofu can be mixed-and-matched with veggies such as lettuce and pickled daikon, and toppings like chopped peanuts and toasted sesame. From there, you have your choice of either wrapping it all up in a roll or throwing it in a bowl – which honestly, sounds like a Tuesday night in college. Paper Rice opens on Friday, August 28th.
Mexicali Taco & Co. – San Gabriel Valley
1811 S. San Gabriel Boulevard | San Gabriel, CA 91776
One of our favorite Mexican spots, Mexicali Taco now has a second location in the San Gabriel Valley. Located in a cute, bright red cabin-looking building on San Gabriel Blvd., expect all of the same excellent Baja-style shrimp tacos, nachos, and of course, their legendary garlic sauce-filled vampiro taco, available either to-go, or for outdoor dining.
A NEW BURGER IN LA
Picnic Society
189 The Grove Dr | Los Angeles, CA 90036
The Grove's latest addition is Picnic Society, a new full-service restaurant and market from the founder of Gwenand Maude. Influenced by the meatier options at Gwen, Picnic Society's market features an impressive selection of house-made charcuterie, cheeses, and spreads, and their outdoor dining menu includes heartier dishes like BBQ pork ribs, steak frites, and the beautiful, eponymous Gwen burger. You also have the option of picnicking on their second floor terrace – but why would you, when the roof of The Grove's parking lot is literally right there?
The Road Trip Has Always Been DIY—These Experts Are Here to Change That!
It's been a rough year for the travel industry so far, but there's no question that domestic travel is about to have its busiest season in years. After months of lockdown and stay-at-home orders, the U.S. has begun reopening just in time for summer—and with international travel on pause, that means that those eager to get out will be doing so closer to home.
The all-American road trip, an easy solution for avoiding the anxiety of plane travel right now, is evolving in lock step. "Across the board, there's a need for space, for distance, and an acute focus on extraordinary, remote destinations and accommodations enveloped by the natural world," says Tom Marchant, the co-founder of Black Tomato, a travel company that creates bespoke, luxury experiences. "The desire to travel has never been more tangible—and we know from past intel and current desire that extraordinary U.S. road trips are what people are craving."
Today, Black Tomato joins several other brands in catering to this interest, as they launch a new offering of domestic road trip itineraries for summer, in partnership with Auberge Resorts Collection (which is known for boutique luxury properties in the U.S. and beyond) and Mercedes-Benz. Travelers can choose from four itineraries throughout the country, from a California wine coast route to a seven-night trip through Colorado and Utah, all of which are planned around stays at destination-worthy Auberge Resorts. (In California, guests will bed down at Napa's Auberge du Soleil; in Utah, they'll rest at the new The Lodge at Blue Sky by Auberge.)
Along the way, count on exclusive experiences set up by Black Tomato's fixers: In California's Santa Ynez valley, that might mean foraging for mushrooms for dinner, or a private whale watching sail. On the New England drive, expect to take a private helicopter to Rhode Island's Block Island for a hike through the National Wildlife Refuge.
The trips are more expensive than throwing your family in the station wagon—they start at $4,995 per person for a five-night trip, including accommodation, breakfast, and private experiences—but the teams at Black Tomato and Auberge say this reflects what travelers are asking for. "[Travelers] are recalibrating where they can go, and what they can do, but many have saved money, or already allotted it to travel," says Marchant of the feedback he has heard from customers. With international flights out of the equation, many are putting what they had already planned to spend on bigger overseas trips toward elevating domestic journeys, like an in-state road trip, that they would have spent less on.
Other travel specialists are hearing much of the same—and adapting accordingly. "As domestic travel restarts, we are hearing from luxury travel advisors who are looking to provide their clients with the same expert on-the-ground knowledge that Abercrombie & Kent offers in far-flung destinations, in places closer to home," says Keith Baron, the president of Abercrombie & Kent USA, a travel company best known for their luxurious safari trips. "In response, we have added six new adventures across the American West and Alaska, as well as two new iconic American road trips, each with private guides and carefully-vetted accommodations that offer added space and privacy."
Some of Abercrombie & Kent's trips focus on national parks, like the Grand Canyon and Zion, and are self-driven; others, like the "Chicago to the West" road trip itinerary, include a chauffeur and stops at scenic ranches, guided hikes, and overnights at luxury lodges. Abercrombie & Kent's new domestic itineraries start at $7,995 for six days, but are customized based on start and end points.
Through Steppes Travel, new road trip experiences combine elements of both of the above offerings, for an especially luxe experience. The new road trip itinerary, soon to be available for purchase, will span 14 days, with stays at Utah's Amangiri safari-style lodge and Auberge's The Lodge at Blue Sky. Starting at $12,895 per person, everything from stargazing in the Grand Canyon to horseback riding through Arches National Park is customizable, as is the option to be joined full-time by a guide or left to hit the open road on your own.
As for who's booking these fabulous road trips and domestic stays? It seems like just about everyone who can, is. "We are seeing demand from a lot of families whose children will no longer be attending camp this summer," says Craig Reid, the president and CEO of Auberge Resorts Collections. "Families want to go on trips that are dynamic, interesting, educational, and that will keep their children engaged." Multi-generational families in particular are inquiring to book, says Marchant, while Reid is also seeing an interest from couples, too. Currently, bookings are rolling in for late-June and beyond, with trip length increasing as compared to past summers, they both report.
These road trip trends are expected to continue well into fall—the hope being that once Americans develop a newfound appreciation for what's in our own backyards, domestic trips will continue receiving attention once saved for heading overseas. "There is truly so much to discover in the U.S., where each destination feels almost like its own country," says Marchant. "We needn't be dependent on flying internationally to have these extraordinary travel experiences.
Where to Buy Face Masks for Travel: Everything You Need to Know
by CASSIE SHORTSLEEVE May 14, 2020
As travel rules regarding masks grow, you'll need one you actually like.
In a mere matter of months, face masks have gone from being exclusively reserved for healthcare workers to, in many instances, being required accessories for travel as the world slowly reopens in the midst of the novel coronavirus pandemic.
Ride-sharing companies like Lyft now require all passengers and drivers to wear face coverings. So do many airlines (JetBlue, Delta, and more). Flight attendants are wearing them. Many local authorities have required residents to wear masks when they venture out from their homes. And you won't be able to board an Amtrak train without one, either.
There are many good reasons why governing health bodies have called for the general public to wear masks. For one, masks help limit the spread of COVID-19 by protecting others from small droplets or particles that you could cough, sneeze, or breathe out and potentially—even unknowingly—infect someone with. By now, experts know that it's possible to spread COVID-19 even if you don't have symptoms.
But masks play another important role today, too: They remind us of the time we're traveling in. "Masks give us a physical barrier that says something is different," explains Neysa P. Ernst, nurse manager of the Johns Hopkins Biocontainment Unit.
If you're not well, you should not travel; that goes without saying. But if a trip is in your foreseeable future, in addition to other protective efforts such as social distancing and hand washing, here's what to keep in mind when purchasing or making a mask.
When to wear a mask
The Centers for Disease Control and Prevention (CDC) recommends wearing cloth face coverings when you're in public and when social distancing measures are hard to maintain (in an airport where you have to board a flight with others, for example).
But if you're unsure about whether or not your trip warrants one, governing public health centers' websites (the CDC or a local health department of a city you're traveling to) are your best sources for up-to-date information. Be sure to heed regulations that your airlines or ride-sharing company has regarding masks, too.
As a default? Err on the side of caution and wear one. "Sometimes, it's hard for people to understand that the health of the public in general depends on the actions of individual people," says Aronoff. "Right now, we're still in a situation where there's still a lot of transmission of the virus going on. As we start to loosen regulations and people begin interacting more, it's going to be important that people continue doing what they can to protect themselves and others."
Additionally: The more people who wear masks, the more the act of wearing them is destigmatized, and the more others might feel comfortable donning one. It's a collective effort that continues to work to flatten the curve.
Where to buy a mask
Amidst the pandemic, many retailers have pivoted their platforms to create and sell masks. Brands like Madewell, Clare V., Rag & Bone, Kenny Flowers, Outdoor Voices, Jack Threads, Summersalt, and MINNA are selling packs of cotton masks, you can purchase face coverings on Amazon, and sports organizations like the NBA and WNBA are selling masks. You can even choose to wear a moisture-wicking balaclava-style hoodie or jumpsuit and mask set to cover your nose and mouth (and keep you warm on a flight).
Buying a mask can be a nice way to support your favorite business, too. "A very small part of the economy that's actually seeing some growth is the creation of masks," says Aronoff.
But if you're crafty, the CDC notes that making your own is perfectly acceptable—and easier than you think. Essentially, all you need to do is cut a 20-inch square piece of cotton cloth (say from an old T-shirt or bedsheet) and use six-inch rubber bands, pieces of string, or hair ties to secure the mask behind your ears or head. (The CDC has a whole video tutorial of how to make your own mask.)
Just as you wouldn't travel with one pair of socks, pack more than one mask and switch your mask if you notice it gets moist for both comfort and cleanliness.
Whether you buy or make your mask, be sure you're using it properly, too. Wash your hands for at least 20 seconds (or use an alcohol-based hand sanitizer with at least 60 percent alcohol—Orly and Ulta currently have some in stock) before putting it on. Don't touch your face while wearing it and wash your hands again after you take it off. Make sure it covers both your nose and mouth, too, so that it can effectively work to contain any droplets that you could potentially transmit to others.
After all, no matter how chic, a mask won't do its job if it's not being used properly.
THANK YOU! MILLE GRAZIE!
I am honored and thankful to have received, and earned thanks to your continued support, the 2019 MVP Award for a second year in a row.
My gratitude to you all!
Rita
THE AGENCY PASADENA: Colleagues, Camaraderie and Cheer – just a Friday afternoon in Pasadena!
Posted on Sunday, February 23, 2020.
Enjoying our second year at The Agency Pasadena, colleagues gather to celebrate and share on the sun-drenched rooftop at Granville Restaurant located on Lake Avenue in Pasadena (across from our Agency Office at PASARROYO – a phenomenal Lifestyle Business Environment.
Thank Goodness It's Friday 🙂
Burgers & Basketball: The Agency Gets in the Game for Giveback Homes
Posted on Tuesday, February 18, 2020.
Competitive spirits ran high as agents and staff faced off for a great cause in a lively basketball tournament at 18 Dovetail Lane. The event benefited The Agency's charity partner—Giveback Homes—which builds housing for families and individuals in need around the U.S. and abroad.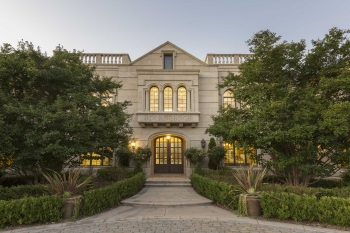 Located in Pasadena's exclusive Bradbury Estates community, this Tudor-inspired, 16,515-square-foot home's pristine sports court served as a perfect backdrop for the high-energy match between the two teams. Players in white jerseys represented the Westside, while players from Sherman Oaks, Pasadena and Calabasas donned red. Prior to the tournament, participating agents and employees donated to Giveback Homes.

After a heated game, The Westside's team edged out a victory, overtaking the red team 15 to 13. All the players celebrated with fresh burgers and fries from In-N-Out.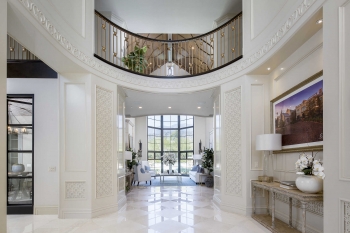 "It was such a blast to have our team members come out and support Giveback Homes," said Gus Ruelas, managing partner of The Agency Pasadena who also represents 18 Dovetail Lane. "Plus, this event gave our agents an up-close look at this estate's spacious interiors and beautiful, entertainment-friendly grounds. This home is impeccably designed for gatherings of all sizes."

The Agency is a proud partner with Giveback Homes, participating in Build Days across L.A., Orange County and Park City as well as hosting lively fundraising events—like the guest bartending party at Santa Monica's ShoreBar.
Cancer Support Community Pasadena |Upcoming Events
Please click here for details and time for all eventshttps://cscpasadena.org
COYOTE and WILDLIFE SAFETY.
IF YOUR PET IS SPRAYED BY A SKUNK
What to do if you or your pet get sprayed by a skunk. Homemade Skunk spray remedy. This remedy can be used on pets, humans and items that have been sprayed.
Ingredients:
One quart 3% hydrogen peroxide
¼ cup baking soda
1 teaspoon liquid dish soap
Rubber gloves
Mix ingredients.
Wearing the rubber gloves, wet down your pet and message the mixture through the animal's fur for three to four minutes. Rinse. Commercial Products: Nature's Miracle Skunk Odor Remover (available at the Pasadena Humane Society & SPCA store), Skunk-Off (available at most pet stores). If you would like more information, contact the wildlife department at 626/792-7151 x110
Coyote Basics
Coyotes are very well adapted to living in cities. Coyotes may be active at any time of day. Their diet consists of rabbits and rodents, carrion, birds and deer, supplemented with berries and other plant materials. If allowed, they will also prey on domestic pets such as cats.
Coyotes venture out in search of food and shelter. By removing any potential food sources from your home, you can prevent repeat coyote visits. Securing your own home is a good first step, but coexisting coyotes is truly a group effort, so be sure to share these tips with your neighbors.
Coyotes and food
Since coyotes tend to fear people, they are unlikely to approach or harm us. However, intentional or unintentional feeding can make them more comfortable around humans, leading to bolder behavior. As such, it is crucial to remove any potential source of food from coyotes.
Keep your cats inside and supervise small dogs outdoors.
Remove any outdoor pet food.
Remove any bird feeders you have set out.
Pick up fruit as soon as it falls to the ground.
Keep barbecue grills clean.
Eliminate access to water on your property, like standing water or bird baths.
SECURE YOUR HOME
In addition to seeking out food, coyotes will tend to linger anywhere they can find shelter. Secure your home so that coyotes will not find it hospitable.
Wildlife-proof garbage in sturdy containers with tight fitting lids.
Keep trash in a secure location and only take out trash the morning pick up is scheduled.
Keep compost in secure containers.
Secure your garage and don't leave the door open unless necessary.
Cover your garden with chicken wire.
Trim overgrown landscaping and clear brush.
Close off crawl spaces under decks and around buildings.
Invest in motion detecting lights that make sound when activated, motion sensing water sprayers, or roll bar fencing.
ENCOUNTERING A COYOTE
Coyotes are typically very wary of humans and will do their best to avoid us. Take the following steps when you encounter one to ensure your safety:
Make the coyote feel uncomfortable.
Be aggressive. Yell or spray a hose at the coyote. Make loud noises or shake a can of pennies to scare the coyote away. Throw tennis balls.
Make yourself appear large and back away slowly.
Never turn your back or run away.
Walk your dog on a leash. You can lower your chance of encountering coyotes on your dog walks by avoiding walking your dog at dawn or dusk.
Make safety your first priority. In case of emergency, call 911.
HOW the Pasadena Humane Society and SPCA CAN HELP
We will visit your neighborhood association or community group to provide a wildlife presentation or interactive coyote safety workshop. For more information, contact 626.792.7151 ext. 114 or outreach@pasadenahumane.org.
Information Provided by Pasadena Humane Society and SPCA