The Road Trip Has Always Been DIY—These Experts Are Here to Change That!
It's been a rough year for the travel industry so far, but there's no question that domestic travel is about to have its busiest season in years. After months of lockdown and stay-at-home orders, the U.S. has begun reopening just in time for summer—and with international travel on pause, that means that those eager to get out will be doing so closer to home.
The all-American road trip, an easy solution for avoiding the anxiety of plane travel right now, is evolving in lock step. "Across the board, there's a need for space, for distance, and an acute focus on extraordinary, remote destinations and accommodations enveloped by the natural world," says Tom Marchant, the co-founder of Black Tomato, a travel company that creates bespoke, luxury experiences. "The desire to travel has never been more tangible—and we know from past intel and current desire that extraordinary U.S. road trips are what people are craving."
Today, Black Tomato joins several other brands in catering to this interest, as they launch a new offering of domestic road trip itineraries for summer, in partnership with Auberge Resorts Collection (which is known for boutique luxury properties in the U.S. and beyond) and Mercedes-Benz. Travelers can choose from four itineraries throughout the country, from a California wine coast route to a seven-night trip through Colorado and Utah, all of which are planned around stays at destination-worthy Auberge Resorts. (In California, guests will bed down at Napa's Auberge du Soleil; in Utah, they'll rest at the new The Lodge at Blue Sky by Auberge.)
Along the way, count on exclusive experiences set up by Black Tomato's fixers: In California's Santa Ynez valley, that might mean foraging for mushrooms for dinner, or a private whale watching sail. On the New England drive, expect to take a private helicopter to Rhode Island's Block Island for a hike through the National Wildlife Refuge.
The trips are more expensive than throwing your family in the station wagon—they start at $4,995 per person for a five-night trip, including accommodation, breakfast, and private experiences—but the teams at Black Tomato and Auberge say this reflects what travelers are asking for. "[Travelers] are recalibrating where they can go, and what they can do, but many have saved money, or already allotted it to travel," says Marchant of the feedback he has heard from customers. With international flights out of the equation, many are putting what they had already planned to spend on bigger overseas trips toward elevating domestic journeys, like an in-state road trip, that they would have spent less on.
Other travel specialists are hearing much of the same—and adapting accordingly. "As domestic travel restarts, we are hearing from luxury travel advisors who are looking to provide their clients with the same expert on-the-ground knowledge that Abercrombie & Kent offers in far-flung destinations, in places closer to home," says Keith Baron, the president of Abercrombie & Kent USA, a travel company best known for their luxurious safari trips. "In response, we have added six new adventures across the American West and Alaska, as well as two new iconic American road trips, each with private guides and carefully-vetted accommodations that offer added space and privacy."
Some of Abercrombie & Kent's trips focus on national parks, like the Grand Canyon and Zion, and are self-driven; others, like the "Chicago to the West" road trip itinerary, include a chauffeur and stops at scenic ranches, guided hikes, and overnights at luxury lodges. Abercrombie & Kent's new domestic itineraries start at $7,995 for six days, but are customized based on start and end points.
Through Steppes Travel, new road trip experiences combine elements of both of the above offerings, for an especially luxe experience. The new road trip itinerary, soon to be available for purchase, will span 14 days, with stays at Utah's Amangiri safari-style lodge and Auberge's The Lodge at Blue Sky. Starting at $12,895 per person, everything from stargazing in the Grand Canyon to horseback riding through Arches National Park is customizable, as is the option to be joined full-time by a guide or left to hit the open road on your own.
As for who's booking these fabulous road trips and domestic stays? It seems like just about everyone who can, is. "We are seeing demand from a lot of families whose children will no longer be attending camp this summer," says Craig Reid, the president and CEO of Auberge Resorts Collections. "Families want to go on trips that are dynamic, interesting, educational, and that will keep their children engaged." Multi-generational families in particular are inquiring to book, says Marchant, while Reid is also seeing an interest from couples, too. Currently, bookings are rolling in for late-June and beyond, with trip length increasing as compared to past summers, they both report.
These road trip trends are expected to continue well into fall—the hope being that once Americans develop a newfound appreciation for what's in our own backyards, domestic trips will continue receiving attention once saved for heading overseas. "There is truly so much to discover in the U.S., where each destination feels almost like its own country," says Marchant. "We needn't be dependent on flying internationally to have these extraordinary travel experiences.
There's a scramble to refinance and buy new homes
As the summer heats up, so too is the demand for home loans.
An index tracking the volume of mortgage applications to buy homes increased 2 percent, seasonally adjusted, from the second week of July when it fell by 6 percent.
The so-called purchase index is a metric based on the Mortgage Bankers Association weekly survey, which encompasses 75 percent of the U.S. residential mortgage market. Joel Kan, who leads industry forecasting for MBA, said the purchase index was up 19 percent year-over-year. 
He said the "strong homebuyer demand" the index shows came "despite mixed results from the various rates."
The 30-year fixed mortgage rate increased 1 basis point to 3.20 percent, while jumbo rates dropped 2 basis points to 3.51 percent, according to the MBA's survey.
Kan noted, however, that "some creditworthy borrowers are being offered rates even below 3 percent." Last Thursday, Freddie Mac saidthe average rate for a 30-year fixed-rate mortgage hit 2.98 percent, a new low in its 50 years of tracking.
MBA also tracks weekly refinance applications, which jumped by 5 percent, seasonally adjusted, last week, marking a 122 percent year-over-year increase.
MBA's overall index, which measures all home-loan applications, increased by 4.1 percent, and refinancing applications accounted for 65 percent of the total applications. 
written by Erin Hudson | The Real Deal
Where to Buy Face Masks for Travel: Everything You Need to Know
by CASSIE SHORTSLEEVE May 14, 2020
As travel rules regarding masks grow, you'll need one you actually like.
In a mere matter of months, face masks have gone from being exclusively reserved for healthcare workers to, in many instances, being required accessories for travel as the world slowly reopens in the midst of the novel coronavirus pandemic.
Ride-sharing companies like Lyft now require all passengers and drivers to wear face coverings. So do many airlines (JetBlue, Delta, and more). Flight attendants are wearing them. Many local authorities have required residents to wear masks when they venture out from their homes. And you won't be able to board an Amtrak train without one, either.
There are many good reasons why governing health bodies have called for the general public to wear masks. For one, masks help limit the spread of COVID-19 by protecting others from small droplets or particles that you could cough, sneeze, or breathe out and potentially—even unknowingly—infect someone with. By now, experts know that it's possible to spread COVID-19 even if you don't have symptoms.
But masks play another important role today, too: They remind us of the time we're traveling in. "Masks give us a physical barrier that says something is different," explains Neysa P. Ernst, nurse manager of the Johns Hopkins Biocontainment Unit.
If you're not well, you should not travel; that goes without saying. But if a trip is in your foreseeable future, in addition to other protective efforts such as social distancing and hand washing, here's what to keep in mind when purchasing or making a mask.
When to wear a mask
The Centers for Disease Control and Prevention (CDC) recommends wearing cloth face coverings when you're in public and when social distancing measures are hard to maintain (in an airport where you have to board a flight with others, for example).
But if you're unsure about whether or not your trip warrants one, governing public health centers' websites (the CDC or a local health department of a city you're traveling to) are your best sources for up-to-date information. Be sure to heed regulations that your airlines or ride-sharing company has regarding masks, too.
As a default? Err on the side of caution and wear one. "Sometimes, it's hard for people to understand that the health of the public in general depends on the actions of individual people," says Aronoff. "Right now, we're still in a situation where there's still a lot of transmission of the virus going on. As we start to loosen regulations and people begin interacting more, it's going to be important that people continue doing what they can to protect themselves and others."
Additionally: The more people who wear masks, the more the act of wearing them is destigmatized, and the more others might feel comfortable donning one. It's a collective effort that continues to work to flatten the curve.
Where to buy a mask
Amidst the pandemic, many retailers have pivoted their platforms to create and sell masks. Brands like Madewell, Clare V., Rag & Bone, Kenny Flowers, Outdoor Voices, Jack Threads, Summersalt, and MINNA are selling packs of cotton masks, you can purchase face coverings on Amazon, and sports organizations like the NBA and WNBA are selling masks. You can even choose to wear a moisture-wicking balaclava-style hoodie or jumpsuit and mask set to cover your nose and mouth (and keep you warm on a flight).
Buying a mask can be a nice way to support your favorite business, too. "A very small part of the economy that's actually seeing some growth is the creation of masks," says Aronoff.
But if you're crafty, the CDC notes that making your own is perfectly acceptable—and easier than you think. Essentially, all you need to do is cut a 20-inch square piece of cotton cloth (say from an old T-shirt or bedsheet) and use six-inch rubber bands, pieces of string, or hair ties to secure the mask behind your ears or head. (The CDC has a whole video tutorial of how to make your own mask.)
Just as you wouldn't travel with one pair of socks, pack more than one mask and switch your mask if you notice it gets moist for both comfort and cleanliness.
Whether you buy or make your mask, be sure you're using it properly, too. Wash your hands for at least 20 seconds (or use an alcohol-based hand sanitizer with at least 60 percent alcohol—Orly and Ulta currently have some in stock) before putting it on. Don't touch your face while wearing it and wash your hands again after you take it off. Make sure it covers both your nose and mouth, too, so that it can effectively work to contain any droplets that you could potentially transmit to others.
After all, no matter how chic, a mask won't do its job if it's not being used properly.
THANK YOU! MILLE GRAZIE!
I am honored and thankful to have received, and earned thanks to your continued support, the 2019 MVP Award for a second year in a row.
My gratitude to you all!
Rita
THE AGENCY PASADENA: Colleagues, Camaraderie and Cheer – just a Friday afternoon in Pasadena!
Posted on Sunday, February 23, 2020.
Enjoying our second year at The Agency Pasadena, colleagues gather to celebrate and share on the sun-drenched rooftop at Granville Restaurant located on Lake Avenue in Pasadena (across from our Agency Office at PASARROYO – a phenomenal Lifestyle Business Environment.
Thank Goodness It's Friday 🙂
Burgers & Basketball: The Agency Gets in the Game for Giveback Homes
Posted on Tuesday, February 18, 2020.
Competitive spirits ran high as agents and staff faced off for a great cause in a lively basketball tournament at 18 Dovetail Lane. The event benefited The Agency's charity partner—Giveback Homes—which builds housing for families and individuals in need around the U.S. and abroad.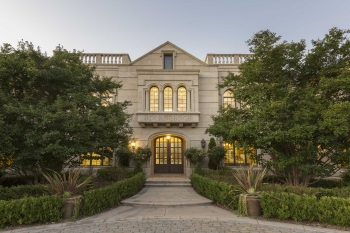 Located in Pasadena's exclusive Bradbury Estates community, this Tudor-inspired, 16,515-square-foot home's pristine sports court served as a perfect backdrop for the high-energy match between the two teams. Players in white jerseys represented the Westside, while players from Sherman Oaks, Pasadena and Calabasas donned red. Prior to the tournament, participating agents and employees donated to Giveback Homes.

After a heated game, The Westside's team edged out a victory, overtaking the red team 15 to 13. All the players celebrated with fresh burgers and fries from In-N-Out.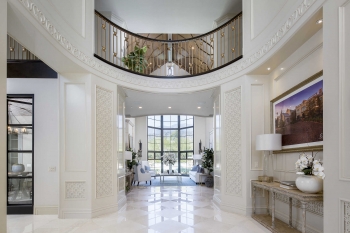 "It was such a blast to have our team members come out and support Giveback Homes," said Gus Ruelas, managing partner of The Agency Pasadena who also represents 18 Dovetail Lane. "Plus, this event gave our agents an up-close look at this estate's spacious interiors and beautiful, entertainment-friendly grounds. This home is impeccably designed for gatherings of all sizes."

The Agency is a proud partner with Giveback Homes, participating in Build Days across L.A., Orange County and Park City as well as hosting lively fundraising events—like the guest bartending party at Santa Monica's ShoreBar.
How to restart iPhones in an easier way
There is trick to shut down your new iPhones without pressing dual side buttons
This feature works even without activating Apple's voice assistant, Siri.
With the launch of iPhone X series, when Apple removed the iconic home button in 2017, it brought a new wave of settings and functionalities for iPhone users.
The biggest system change, and a rather tricky one, is how to restart new iPhones, because a simpler manner of just pushing the side power button doesn't work on the new phones. Instead, you have to press two side buttons – power button and either of the volume buttons – to switch off the phone.
However, there is trick to shut down your iPhone X and higher iPhones without pushing those many buttons. Here is how to do it:
Go to Settings and tap Accessibility option.
Once you've tapped on the Accessibility option, you will find the option of Voice Control.
Tap on that and activate Voice Control by following the commands.
Once Voice Control is set up, you will find a number of commands that you can use or simply customise them.
Once done, simply say "Reboot Device" and a prompt will appear asking, "Are you sure you want to restart your iPhone?"
Simply tap on 'Restart' option below the question and the phone will automatically restart.
Once the Voice Control is activated, you will see a blue microphone on the iPhone's status bar. It is always on 'On mode' as you do not have to press any button to activate this command. However, you always disable the feature by simply going to Accessibility option and switching it off. Or if you have your Siri activated, you can ask Siri to disable Voice Control as well.
Fun fact: This feature works even without activating Apple's voice assistant, Siri. However, you can also use the feature by asking Siri to activate 'Voice Control' by commanding Siri.
Maestro Pasadena
enjoy LOS ANGELES
what to do and more
24 Delicious Food-Filled Hours in Pasadena
Make every meal count in the City of Roses by Cathy Chaplin Updated Sep 12, 2019, 2:57pm PDT
With its tree-lined streets, family-friendly parks, and Craftsman-style homes, Pasadena may very well be Los Angeles's quintessential suburban paradise. However, scratch beneath the well-manicured lawns to find a neighborhood that is as dynamic and as diverse as any in greater LA. The dining establishments in Pasadena reflect the tastes of its residents and the tourists that visit year-round. From timeless institutions to modern hit-makers, the itinerary below is meant to help both first-timers and locals alike by highlighting some of the most essential places to eat in town.
Breakfast: 7 a.m. — Lucky Boy
Head to this Pasadena institution for the most important meal of the day. Place your order with one of the gruff fellas at the front window and wait for your number to be called a short while later. The dish to get is Lucky Boy's famed breakfast burrito, jam-packed with hash browns, eggs, cheese, and choice of bacon, sausage, chorizo, or ham. Spanning eight-inches in length and weighing in at close to two pounds, this flour tortilla-wrapped gut-buster has been fueling residents since 1973.
Morning Coffee or Tea: 8 a.m. — Home Brewed Bar
For a thoughtfully crafted caffeinated hit, head to Home Brewed Bar for a cold brew tea or coffee. Order something strong at the counter and sip it slowly while watching the morning hustle and bustle in Old Pasadena.
Morning Snack: 10 a.m. — Roma Market
Snag "The Sandwich" for a mid-morning snack. Renowned city-wide for its simple and satisfying prowess, The Sandwich is the creation of the owner of Roma Market Rosario Mazzeo. Its foundation, a sturdy Italian roll drizzled with olive oil and sprinkled with salt, is layered with provolone, mortadella, spiced coppa, and salami.
Located on the not-so-scenic-corner of Altadena and Villa, Super Burger has been around for years. However, it wasn't until Jean and Ben Khe took over the al fresco stand in 2009 that word began to spread about their incredible burgers. Indulge in a true California classic for lunch and get the cheeseburger, which comes decked-out with two slices of American, sautéed onions, tomato, lettuce, and Thousand Island dressing, smooshed between two toasted buns.
Jessica Mortarotti opened this brick and mortar on the edge of Pasadena after years of selling her delightful ice creams from a push cart at local farmers markets. After lunch, swing in for a seasonal scoop made with organic milk. The list of flavors changes from day-to-day, but tubs of the shop's perennial favorites like salted caramel, mint cacao, lavender honey, and brown sugar vanilla bean are always ready for the regulars.
Happy Hour Drinks and Bites: 5 p.m. — Bone Kettle
Head to Bone Kettle in Old Pasadena for a drink or two before dinner. Sip a glass of the house sangria made with chipotle, orange extract, and pinot noir, while snacking on a few of chef Erwin Tjahyadi's Asian-inflected small plates like the fried oxtail tips or the mapo tofu fries.
Dinner: 7 p.m. — Union
Nab a table at Union for some of LA's finest Italian cooking from chef Christopher Keyser. Start with some light appetizers, like the burrata with house-made bread or the polenta with mushrooms, and then settle in to as many pastas as the table can handle. The torchetti, a ridged and tubular canvas, comes topped with a Calabrese pork ragu, a dollop of ricotta, crispy rosemary leaves, and best of all, an intense dried chili oil that the chef calls "pizza grease."
After Dinner Drinks: 9:30 p.m. — Maestro
Wrap up the day over drinks at this fantastic modern Mexican restaurant. Hone in on the wildly creative cocktails made with rare tequilas and mezcals, like the tequila-forward Mexican Lollipop made with lime, fresh passion fruit, and chamoy, or the Mezcal Campfire with mezcal, lime, and green chartreuse.
Finish the day with a late-night taco run. Parked on South Fair Oaks Avenue, the Los California Tacos truck is as dependable as it is delicious, serving until 12:30 a.m. on Sunday through Thursday and until 2:30 a.m. on Friday and Saturday. It's hard to go wrong with porky hits like carnitas, chicharron, and cabeza.
ENTRE NOUS | OLD TOWN
This wonderful cozy little 'neighborhood gem' offers indoor our outdoor seating and features solid French bistro fare, to include delicious French and California wines.
Look for a knock-out Caesar salad (my favorite caesar dressing around), French onion soup served piping hot (as it should be), the entrecôte au poivre with fries or the poulet au thym (both our go to favorites) and more… While the menu almost always features special appetizers and mains, the rest of the entre nous menu is packed with typical French Bistro entries such as fish, pasta, rabbit, duck, bouillabaisse and more and it's always served with fresh French bread and European butter.
Last but not least, they have fabulous wines by the bottle or the glass – our favorite is always a glass (or two) of Châteauneuf–du–Pape, which is available by the glass or bottle!
VOILA! Bon Appetit
Reservations: entrenousfrenchbistro@gmail.com or Call 626-844-4500 | Located at 119 W. Green Street | Pasadena CA
The NEW iPHONE 11 PRO. Hurry!
DETAILS: iPhone 11 Pro Starting at $999 All-new triple-camera system (Ultra Wide, Wide, Telephoto), Up to 20 hours of video playback, Water resistant to a depth of 4 meters for up to 30 minutes, 6 5.8" or 6.5" Super Retina XDR display.
What the New iPhone Means for Your Dismal Food Photos
The iPhone 11 camera will mean a vast improvement in quality for Instagram food photosby Jenny G. Zhang@jennygzhang Sep 10, 2019, 6:19pm EDT
You can always tell when a photo of food was taken in a dimly lit restaurant. Either it's dark and barely visible or there's the telltale glare of a flash, imbuing the shot with an unappetizing garishness. Or a third possibility where the image has been processed to hell and back, its exposure pushed up so much that everything turns grainy, as if it was handiwork out of a beginner's dark room instead of the product of a thousand-dollar technological marvel.
Today at its annual iPhone event, Apple unveiled its own night mode on the new line of iPhone 11 models, which means we can pretty much predict the end of shitty nighttime restaurant photos from food grammers on your feed (if a feature is new to the iPhone, that means it's essentially new to virtually all Insta influencers). There will be no more excuses for grain, flash, or other unflattering ways to compensate for low-light situations. This could even fundamentally impact some restaurants' marketing and business, as dimly lit eateries that were previously rarely photographed may now be discovered more on social media feeds thanks to photos in which food is clearly visible.
Another real-world impact may be on the actual behavior of food influencers in restaurants. Expect to see fewer awkward physical maneuvers to get the classic top-down overhead shot of a meal, thanks to the iPhone 11 Pro's new, hideous, three-lens design that includes a wide camera and an ultra-wide camera. While professional food 'grammers tend to focus on tight shots of a single dish, according to Eater's senior social media manager Adam Moussa — who runs Eater's Instagram account and has to scroll through hundreds of food snapshots a day — the bird's-eye view of a bountiful spread is still a staple of food photography, one that usually involves standing up or even clambering onto a chair to capture the entire surface of the table in a single frame. That behavior has become commonplace in the Instagram era, but let's be honest, it's still a bit obnoxious, especially in the eyes of some restaurant owners and staff.
The iPhone fundamentally changed the camera industry and the medium itself, transforming anyone with a smartphone in their pocket into a photographer, a videographer, a documentarian of everyday life and historical events in the making. It sounds frivolous, but each new iteration impacts the photography we see on our feeds, and by extension, how we view the world. Judging by these features, the world of food we observe on our phones is going to be a little better lit, and more easily wider, going forward.
Real Estate Life – a New Docuseries
SPOILER ALERT!  THIS IS REALLY FUN!!!
The Agency Equestrian
The Agency Equestrian Division is made up of a team of experts in the equestrian lifestyle who understand the unique needs of this highly specialized, global market. Led by The Agency's Amanda Thompson, an avid equestrian and veterinary field veteran, the team specializes in the sourcing, buying and selling of equestrian properties, horse farms, ranches, land and luxury properties.
Combining a passion for animals and luxury real estate, The Agency Equestrian Division is thoroughly versed in equestrian properties located throughout California and Arizona. The team also has the global network and resources in place to source equestrian properties throughout the United States and the world. The equestrian team understands the unique needs of buyers in this niche market and has exclusive access to off-market properties through The Agency channels. Team members hold the breadth of experience, on a personal and professional level, to represent sellers and identify the distinct potential and value in each property they represent.
For more information on The Agency Equestrian Division, contact Amanda Thompson at 925.260.7405 or Amanda.Thompson@TheAgencyRE.com.
The Best Wireless Earbuds for Travel (and Everything Else)
by SEBASTIAN MODAK and ELAHEH NOZARI July 10, 2019 | Conde Nast
While wireless earbuds have been around for a while, the AirPods ushered in a new generation of truewireless earbuds when they made their debut at the end of 2016. So began a Bluetooth-dominated future, where earbuds aren't physically connected to your device or to each other. For travel, going wireless can be liberating—no more wire tangles clogging up your backpack and no more slack cord dipping in your in-flight meal by mistake. And for some, over-ear wireless headphones are too bulky to stow away in an already packed carry-on bag. Here are the top true wireless earbuds for travel and otherwise, ranked from best (and most expensive) to still-great and budget-friendly. (Note: We don't think sorta-wireless earbuds—the ones with a wire connecting them to each other—are worth it when there are so many great options available now, so we've limited this selection to true wireless earbuds.)
Sennheiser Momentum True Wireless Earbuds
For those who follow the evolution of earphone brands closely, it would have been pretty obvious that the German perfectionists at Sennheiser were probably not messing around when they released the Momentum True Wireless Earbuds in November 2018. These earbuds prove that size does not indeed matter, to the point that at times it's easy to forget you're dealing with two tiny capsules that could easily be lost in the wash and not some oversized headphones. The sound and passive noise isolation of these wireless earbuds are superb, with thumping bass and non-grating treble. An elegant, pocketable, USB-C charging case that doesn't look like it's holding your meds (hi, AirPods) is the cherry on top.
Battery life: Four hours, plus an additional eight out of the charging case.
Hits: Basically everything—seriously, these are the best wireless earbuds around.
Misses: A $300 price tag, less than a Benjamin short of some of the highest end over-ear headphones, will be tough to swallow for most; the controls, a complicated network of taps on the completely buttonless earbuds, can take some getting used to.
Apple AirPods
You can say what you want about Apple—that it doesn't innovate quite like it used to, or that it's the company that got us into this wireless mess with its nixing of the headphone jack in the first place—but it really hit the mark with the AirPods and set a new standard for how Bluetooth earphones should work. Granted, the AirPods are designed for iPhone and Mac users, so if you're of a different persuasion, there are better options for you above and below. But if used to their fullest, the AirPods can be remarkable, which makes them our runner-up for the best wireless earbuds. The seamlessness of the connection, established as soon as you pull them out of their carrying case; the surprisingly better-than-decent sound quality, despite lacking the existence of eartips for cushioning; and some handy features, like automatic pausing when you pull one earbud out, all add up to a pretty nifty listening experience.
Battery life: Five hours, plus an additional 20 from the charging case.
Hits: Seamless Bluetooth connection; probably the best battery life in its class.
Misses: One size does not fit all: If you've had trouble keeping the AirPods' predecessors, the wired EarPods, in your ears, you'll have trouble with these, too (also, no matter how much you tell yourself the little cylindrical extensions to the AirPods look cool, they don't).
Jabra Elite 65T True Wireless Earbuds
If you prioritize sound quality for music above all else—and you're looking for an AirPods alternative—the Jabra Elite 65T are the best wireless earbuds at at a more affordable price point than the Sennheiser. They carry an impressive dynamic range, and three different choices for silicone tips means you can find your perfect fit that will also offer very good noise isolation. The connection strength, powered by Bluetooth 5, is ironclad, so you won't experience dropped audio unless your phone is running on an earlier Bluetooth system. If you exercise a lot, consider getting the Jabra Elite Active 65T, which are nearly identical to the standard Elites but are sweat-resistant (and $20 more expensive).
Battery life: Five hours, plus an additional ten out of the charging case.
Hits: Great sound; easy-to-use controls; strong Bluetooth connection.
Misses: Not the best for phone call audio quality, especially if you're on a busy city street.
Bose SoundSport Free True Wireless Earbuds
Hoping for a vacation jog, but still want to keep up with the latest episode of The Daily? Here's your answer. The Bose SoundSport earbuds are built for those on-the-go—who also want to stay aware of their surroundings. That means you aren't getting any noise isolation, but it also means you won't get hit by that bus because you are so lost in the sweet, sweet hooks of Carly Rae Jepsen. (The Jabra Elite Active, in contrast, are quite noise-cancelling.) These earbuds also water-resistant, so they'll withstand your own sweat as well as an unexpected rain shower. Most importantly, though, is the sound: Granted you're not in too noisy an environment like, say, an airplane cabin, these really do sound great with a good blend of highs, mids, and lows.
Battery life: Five hours, plus an additional ten out of the charging case.
Hits: Great sound; an array of features that make them perfect for a workout.
Misses: Basically nonexistent noise isolation; the way they stick out of your ears can look a little silly.
Soundcore Anker Liberty Air True Wireless Earphones
If you're looking to spend under $100 on wireless earbuds, the Soundcore Anker Liberty Air are your best bet. They're similar to the Apple AirPods in that they have a long cylindrical stem that sticks out of your ears, and they're remarkably comfortable. They have silicone tips that seal off your ear canals so they are technically noise-isolating, but the effectiveness really depends on how well the included ear tips fit you (there are small, medium, and large options). They'll definitely stay in place if you're, say, sitting at the airport, but if you're taking these on a long run or for a jaunt around the gym, they won't be as snug as the Jabra Elite Actives. They will, however, be more secure in your ears than the AirPods, which have a reputation for falling out. They have a strong Bluetooth 5.0 connection and they easily pair to your device.
Battery life: Five hours, plus an additional 15 from the charging case.
Hits: Solid noise-isolation system and comfortable fit.
Misses: They are cheaper than most of the wireless earbuds on this list, which means they (and their charging case) also look and feel cheaper.
Restaurant Alert: Hippo
HIPPO (Highland Park Post Office) in Highland Park opens to rave reviews…
Just tried HIPPO, Matt Molina's new digs on Figueroa in Highland Park. You may remember Matt Molina from Mozza. He now has several James Beard awards strapped tightly under his belt and with your first look at his menu you'll know why. To begin – the space is cool, hip and 'oh so' Highland Park (this coming from a tried and true Pasadena Lady). We almost had everything on the menu (those of you who know my eating style say, "what's new"), but tops on my list (other than noshing on the chewy pizza-like bread) were the pastas (another non-surprise), delicious home made corn pasta, lasagne verde, and more… Salads were also amazing, don't miss the wax beans, ceviche was Pacific Ocean fresh and flavorful. You ask about wine, well, surprisingly enough Matt's partner is none other than Silver Lake Wine's Randy Clement. Salute! We chose to go with an Italian Red (or two) both chosen by head wine guru aka sommelier, David Rosoff, who knows his stuff! PS… great Bar (where you can also dine) features well known bartender Clare Ward, so cocktails are killer too! Don't miss HIPPO – a super comfortable upscale environment with a huge palate. Reservations are necessary (unless you're planing to eat at the Bar) and found on www.resy.com
HIPPO ADJACENT… Triple Beam Pizza and Highland Park Wine
…and while you're visiting HIPPO, don't miss OR should I say you can't miss Triple Beam Pizza, a Nancy Silverton and drumroll… Matt Molina pay by the weight Roman-style Pizza. Silverlake Wine owner Randy Clement is involved here too, so again it's easy to enjoy a delicious bottle of wine from sister shop HIGHLAND PARK WINE, while you enthusiastically gnaw away on your mouthwatering pizza. There are oodles of outside tables and the scene is SUPER casual and picnic-esque! Go back for more or better yet, take it to go, the menu frequently updates!
Dan Modern Chinese Pasadena
Simple, clean and comforting: three words to describe Dan Modern Chinese!
Located in the Commons shopping complex on South Lake Avenue in Pasadena, the restaurant is a sleek and minimalist space. The food is delicious, whether a simple dumpling (xiaolongbao) or the Dungeness crab fried rice (exotic flavors). This is the perfect "quick stop" for lunch or if you prefer it is also a great Postmates or Door Dash in-home dining experience. Dan Modern doesn't feel much like of dinner venue – at least not for me.
Food-wise, you can't go wrong, but nonetheless, don't miss the Dungeness crab fried rice, which arrives beautifully peppered with bits of crab meat. It is an interesting mix between the sweet-and-savory Dungeness crab and an airy fried rice. The oxtail noodle soup is a showstopper. The broth is skimmed of fat to let the clean, savory and gently iron-inflected taste of oxtail broth really come through. The tender oxtail meat and handmade noodles are perfectly prepared. Last but not least, the dumplings are pure comfort food – melt in your mouth delicious.
Dan is a simple little spot tucked in the back corner of the Commons, just next door to Sugarfish and across the plaza from Mercado – two other noteworthy food contenders your palate may wish to entertain!
Dan. 146 S. Lake Ave. Pasadena, CA 91101 | Open Tuesday to Friday 5:30 to 9 p.m., weekends 12:00 to 9:00 p.m. Closed Mondays.
MacBook Pro 2019
The new MacBook Pro – So What's New?
In a nutshell, it does 0-60 in a nano second – it's lightening fast, it has a longer battery life and the keyboard problems of the past have been addressed. Here's the skinny…
The new MacBook Pro models use the latest Intel processors, introducing an 8-core option for the 15-inch MacBook Pro for the first time. While the 15-inch models use 6 or 8-core 9th-generation chips, the 13-inch MacBook Pro is equipped with a quad-core 8th-generation chip. While Apple claims these chips are two times faster than pervious models, having actually used mine this past weekend, I have been astonished with the speed. General Specs include:
13- and 15-inch sizes

True Tone display and Touch Bar

Up to 4 TB SSD on 15″, up to 2 TB on 13″

8th-Gen and 9th-Gen "Coffee Lake Refresh" chips: Up to 8-core on 15″, up to 4-core on 13″

T2 chip for enhanced security and "Hey Siri" support

More durable butterfly keyboard
Why I bought it?
I needed an upgrade to my MacBook (12″, 1.2GHz processor) and rather than waiting for the "soon-to-be" upgrade to the MacBook, I went all out with the bells and whistles (surprise) and chose the just released 13″ MacBook Pro with the touch bar, 8GB RAM, 2.4GHz Quad-Core Processor and 512GB of storage. Why? The MacBook Pro is so fast and responsive, the re-designed keyboard is magical and all in, it wasn't a big enough price difference to warrant buying a much slower, albeit one-pound lighter, MacBook (top of the line price $1599.00). At $1,999.00 the MacBook Pro (still a lot of dough), but to my mind, well worth it given my laptop needs (and lack of patience) and as I mentioned at 3.02 pounds, and only weighing a pound more than my previous MacBook, it was an easy decision. BTW – An entry level MacBook Pro, which is still ridiculously fast, is $1299.00, which when considering that an entry level MacBook is the same price, doesn't seem right (unless the 1-pound difference in weight is a factor). BOTTOM LINE: If you are in the market for a new laptop, I think you owe it to yourself to give the new 2019 MacBook Pro a spin.
Sushi Enya / Old Town Pasadena
This is a truly authentic Sushi experience in Pasadena! From the moment you walk in, you are treated with Japanese formality and politeness. The fish is FRESH, the food is thoughtful and the Sake list is top shelf! Only problem is they don't take reservations! I promise, its worth the wait!
What does the restaurant say?
Sushi Enya is a Japanese sushi restaurant that started in the heart of Little Toyko in Downtown, Los Angeles. We opened our second location in Old Town Pasadena in 2017. Third location in Marina Del Rey is open now!
Our very own Owner Chef Kimiyasu Enya has trained for over ten years in Japan. We pride ourselves in serving the freshest ingredients on the market! Our goal is to serve and exceed our customer's expectations!!
Sushi Enya – Pasadena:
Monday – Thursday, 5:30 p.m. – 10:00 p.m.
Friday, Saturday, 5:30 p.m. – 11:00 p.m
Sunday, 5:00 p.m. – 10:00 p.m?
Dama Downtown LA
Dama has officially arrived in DTLA, specifically located in the Fashion District, City Market South to be precise! The site presently houses Rossoblu, another great newcomer from one of the former partners of Sotto in WLA. Dama's chef and partner is Antonia Lofaso, who not only inspires with amazing flavors, but the menu is extensive and features something for everyone! Small plates is the concept, but truly these dishes are perfect for a group of four/five to easily share 6-8 plates with room to spare for dessert, which should not be missed – magical (read on)!
Step ONE: Before I begin to give this amazing Chef a ton of credit for one of the best dinners we've had in a long time, let me tell you about the cocktails, a huge part of this diverse scene! I ordered (true to form) the Sandia y Mexcal a mezcal and watermelon palate burster – outstanding! Bottom Line: All of the cocktails our group ordered met with rave reviews as did the extensive wine list!
Step TWO: Bread, which is one of the many small plates, is not your ordinary bread – this is buttered, dusted in garlic and then grilled to perfection – topped with a mouthwatering marble-sized medley of colorful tomatoes full of flavor! On to the the whipped beans, Lofaso's take on humus is topped with small pieces of crispy shredded pork (the two textures are a nice complement to each other). Moving on to plate #4 the cilantro aeoli corn on the cob (served on a stick ala cotton candy style) not only left me wanting to lick the plate, but wanting for more! Some of the other standouts (they all were) are the clams and chorizo, prepared with a delicious savory cider broth and served with grilled bread, the empanadas – sounds like every other pan-latin American restaurant, but true to form, these tiny bite size ground beef empanadas are full of flavor (not dough). Drumroll… the real winner of the evening was the crispy pork shank served with both lettuce cups and tortillas (for wrapping), avocado slices and pickled vegetables – roll it up together with mouth watering slow-cooked pork and add several of the unique and flavorful sauces that accompany this unbelievably delicious creation! Needless to say, we can't wait to return for another decadent and delicious evening sitting under the stars (and LAX flight path) for round !
Step THREE: Our dessert, which the restaurant most graciously served in honor of my son's birthday (even sang to him) met with the same standard of perfectly balanced flavors! Strauss soft serve with bananas and topped with cream and hot cinnamon churros with caramel dipping sauce – OMG, need I say more! YES, make your reservation today! Easy to do with www.resy.com and parking is also pretty simple with the arrival of valet service or easy to find on-street metered parking.
TIP: After dinner grab the bocce balls from either of the two restaurants and have a bit of fun at the adjacent bocce run!