WALL STREET AND REAL ESTATE???
WHAT EXACTLY IS GOING ON?
A little over a decade ago, disaster struck.
The year was 2007 and after riding a rising economy and easy credit for years, home prices began to fall. Suddenly, multitudes of homeowners found themselves underwater and began defaulting on their mortgages. And in turn, Wall Street — where investors had turned to bundled home loans known as mortgage-back securities — fell to its knees.
The ensuing chaos wrought devastation across the economy and today historians are still parsing the subprime mortgage crisis, the Great Recession, the foreclosure crisis and other chapters of this dark financial period.
Now, it might seem like after a once-in-a-lifetime financial crisis Wall Street would forever be wary of dipping back into the world of real estate. But in fact, the opposite has proven true: Today big investors with big money are roaring back into the sector. All of this has happened before, all of this will happen again.
Of course circumstances are not exactly as they once were. For one thing, there are numerous regulations in place that didn't exist prior to the financial crisis. Credit is also tighter for would-be homebuyers, and much of today's cash is flowing into tech startups instead of exotic financial vehicles.
Still, investors have warmed considerably to the real estate sector in recent years, and today it has become a consistent target for people looking for big payouts. This is a huge topic that could fill volumes and volumes, but below you'll find some of the more notable trends.
WHO'S INVESTING, AND WHERE?
There are too many investors pouring money into the real estate sector to list here, but some of the big names are definitely worth knowing. Perhaps most significantly is Softbank, a Japanese multinational behemoth that in 2016 announced it was going to raise $100 billion for a "Vision Fund" to invest in tech companies.
Softbank has sunk fortunes into companies across numerous sectors, but its real estate investments have been particularly transformative. In 2017, Softbank put $450 million into Compass, which was the largest real estate tech investment in U.S. history. Less than a year later, Softbank led another round of funding that netted Compass another $400 million. These investments helped drive Compass' valuation to $4.4 billion last year, and have been the key behind both the company's expansion and frequent attention. In other words, even if you're not familiar with Softbank, if you've heard of Compass then you're aware of the Vision Fund's impact.
Softbank has also fueled the growth of iBuying by investing $400 million in Opendoor. Other real estate investments include leading funding rounds of $865 million and $120 million for construction startup Katerra and insurance company Lemonade, respectively.
Softbank also plunked down a staggering $6 billion on office co-working company WeWork.
The list of Softbank's investments could go on, but suffice it to say that it is behind many of the most prominent real estate companies on earth. Its investments also haven't come without controversy; nearly half of the Vision Fund's value comes from Saudi money, which became a point of criticism last year thanks to the Middle Eastern kingdom's connection to the killing of journalist Jamal Khashoggi.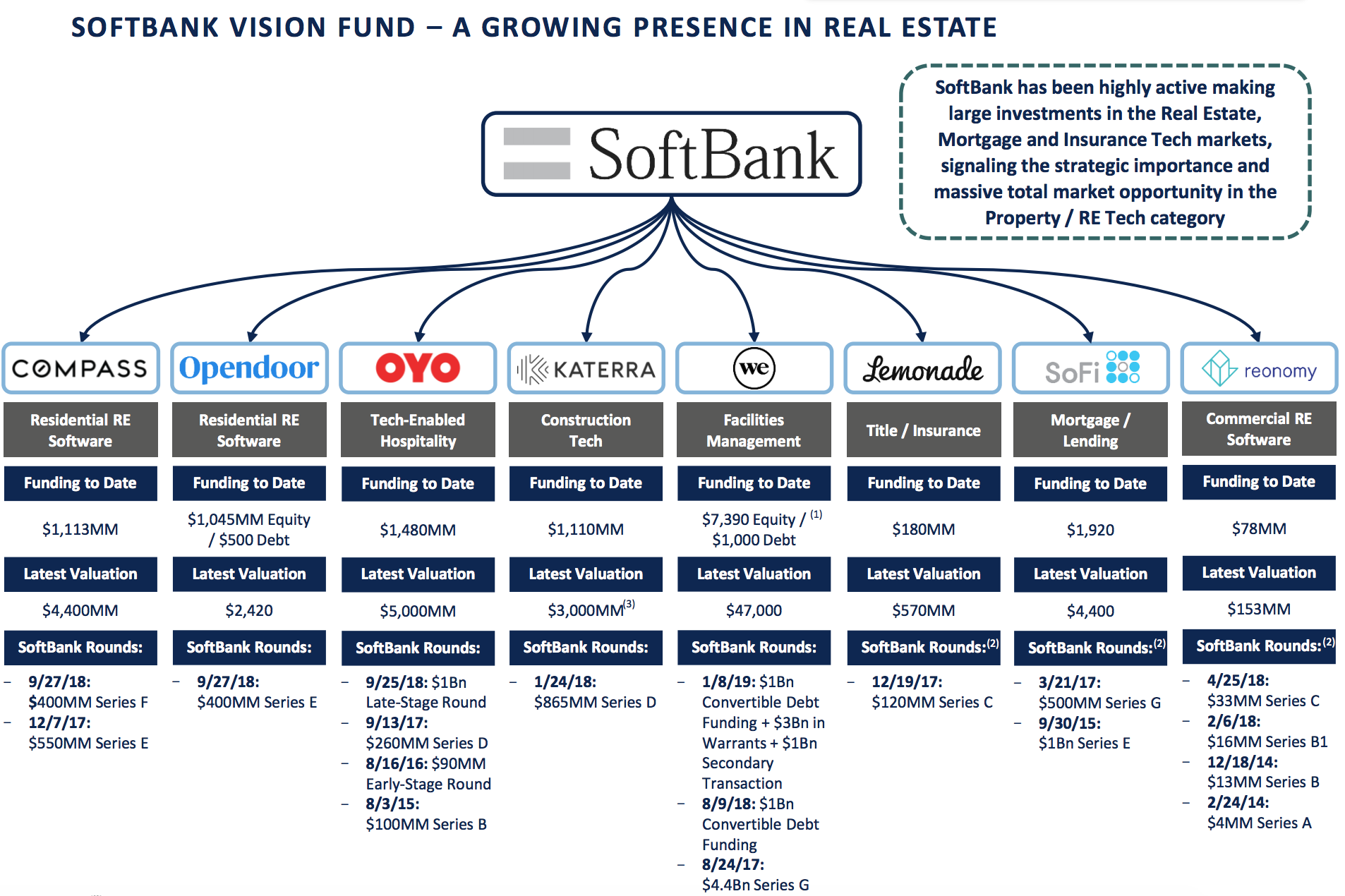 This graphic shows how diverse Softbank's investments in real estate have become. Credit: GCA
Softbank is obviously not the only big investor in the real estate space and a list of other players looks like a who's who of flashy funds. Sequoia Capital, for example, is one of the largest venture funds in the world and has invested in Trulia, Airbnb, Houzz and home maintenance startup Setter.
Andreessen Horowitz — another famous venture capital fund — has invested in rent-to-own startup Divvy, online brokerage FlyHomes, investing platform PeerStreet, and Airbnb.
Vanguard Group, a massive financial company that among other things provides mutual and exchange traded funds (ETFs), has invested in real estate as well. Perhaps most notably, the company has spent big on disruptors like Redfin and Zillow — though among other things it also operates a real estate ETF.
Here are just a few other investors who are pushing into real estate: Axel Springer, Riverwood Capital, Fidelity Investments, Signia Venture Partners, Zeev Ventures, World Innovation Lab, DFJ, Tribeca Venture Partners, Colchis Capital, Nyca Partners, Caffeinated Capital, TLV Partners, Thomvest, Menlo Ventures, Felicis Ventures, Solon Mack, Revolution, SciFi VC, Sunstone Capital, Navitas Capital, Corigin Ventures, Holtzbrinck Ventures, Bessemer Venture Partners, Hony Capital, Commerce Ventures, Camber Creek, Valar Ventures, Two Sigma Ventures, Chicago Ventures, Madrona Venture Group, Matrix Partners, E15 VC, and many, many others.
This list is not comprehensive, but the point here is merely to emphasize just how massive the amount of investment in real estate companies is. It's a big deal.
All this money is being thrown at different parts of the real estate equation from buyer and seller leads to property management to insurance to closings.
But one thing many of the recipient companies have in common is that they rely heavily on cutting edge technology — things like automation, algorithms or artificial intelligence — and are sometimes classified as "proptech." The idea is that new technology can significantly boost efficiency by giving home sellers near-instant offers, or by reducing paperwork, or by analyzing data at a vast scale to identify previously unknown trends. Or whatever.
"I would say that we're definitely seeing the proptech market on the cusp of a super cycle of innovation," said Vik Chawla, a principal at Fifth Wall Ventures, which has invested in companies such as Opendoor and insurance startup Hippo. "The real estate market itself is the largest asset class on earth."
Speaking to Inman, Chawla pointed to the example of customer relationship management systems, or CRMs, which "until really three to four years ago was a foreign concept to the typical real estate agent." Today, however, CRMs are a competitive field.
HOW MUCH CASH ARE WE TALKING ABOUT?
In a word, tons.
According to GCA Advisors, an investment bank that tracks various types of funding, 2018 saw a total of 289 deals that altogether added up to $5.4 billion in equity invested. Incredibly, just three companies accounted for 37 percent of that funding: Opendoor, Compass and Katerra (all three of which are backed by Softbank).
The GCA report also notes that 2018 was "the most active year of financing to date," with an increase of 84 percent year over year. By comparison, investors put about $2.9 billion into the real estate technology sector in 2017, $1.7 billion in 2016, $1.1 billion in 2015 and $763 million in 2014.
[graphic from page 4 of the report]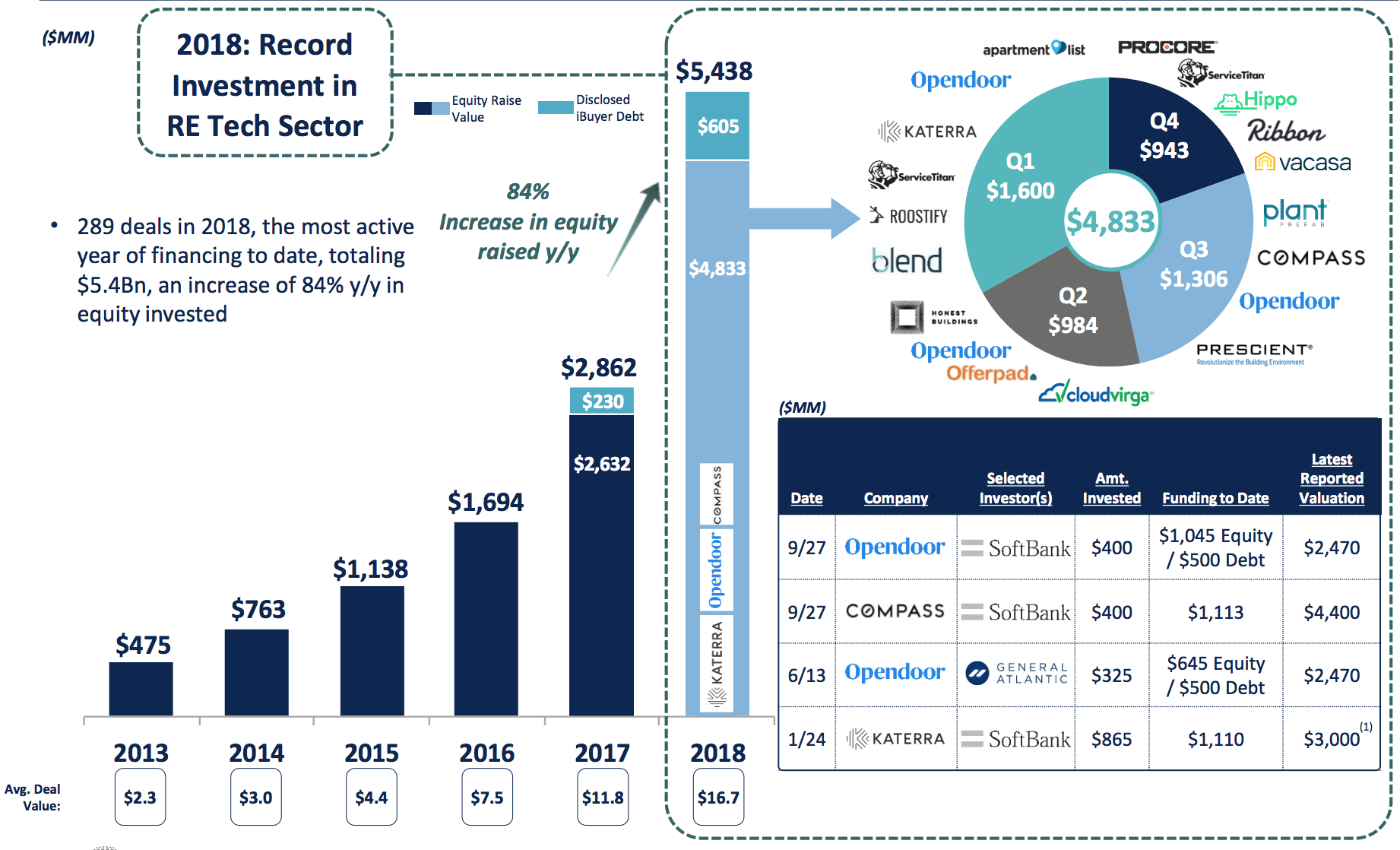 Investment in real estate has increased significantly in recent years. Credit: GCA
Chris Gough, a managing director at GCA, told Inman that there is currently "broad participation in the real estate market from all capital sources," including venture, growth and buyout-oriented funds.
"To put it in perspective, there were 463 unique investment firms that participated in at least one real estate tech investment in 2018," he added.
Gough also explained that the size of transactions has gone up in recent years, and that there have been significant investments from "large, well-known funds such as SilverLake, Providence Equity, Thoma Bravo, Vista Equity, TA Associates and TH Lee, amongst others."
Significantly, GCA also expects this trend to continue, writing in the report that the real estate technology "market will remain highly active in 2019."
Everyone who spoke to Inman for this story described personally witnessing this influx of capital, noting how even by their own anecdotal experience investment seems to be accelerating.
"I concur there's been a lot of activity," Chawla said. "That shouldn't be surprising. The market is the largest one on earth and amongst the most backwards."
WHAT ABOUT OTHER INVESTMENTS? IT'S NOT ALL PROPTECH, RIGHT?
Tech companies capture a lot of the headlines, but big money is flowing into other parts of the real estate industry as well.
Big institutional landlords
One of the most significant trends is the rise of Wall Street-backed landlords. Major Wall Street players began snapping up single family homes to use as rentals during and in the wake of the foreclosure crisis as Fannie Mae and Freddie Mac started selling off non-performing mortgages, according to Daren Blomquist, an economist and vice president at Auction.com. Investors were able to buy those mortgages at deep discounts with the goal of making them "re-performing," or in other words getting the homeowners to start paying again.
Blomquist said the investors did in fact get many mortgages back on track, but "there is still a percentage of those that never got back to performing." And in some of those cases, the investors ended foreclosing on and later buying the homes behind those mortgages.
"Some of these companies," Blomquist said of the Wall Street landlords, "it's getting into the tens of thousands of homes that they have acquired."
A report commissioned by a group of consumer advocacy organizations in 2018 bears that out. The report (which is critical of this trend) states that by October 2016, Fannie, Freddie and the United States Department of Housing and Urban Development (HUD) had collectively sold off
"104,258 delinquent mortgages at hugely discounted prices."
"Over 95% of them were sold to Wall Street private equity firms and hedge funds, and many were turned into rental properties," the report adds.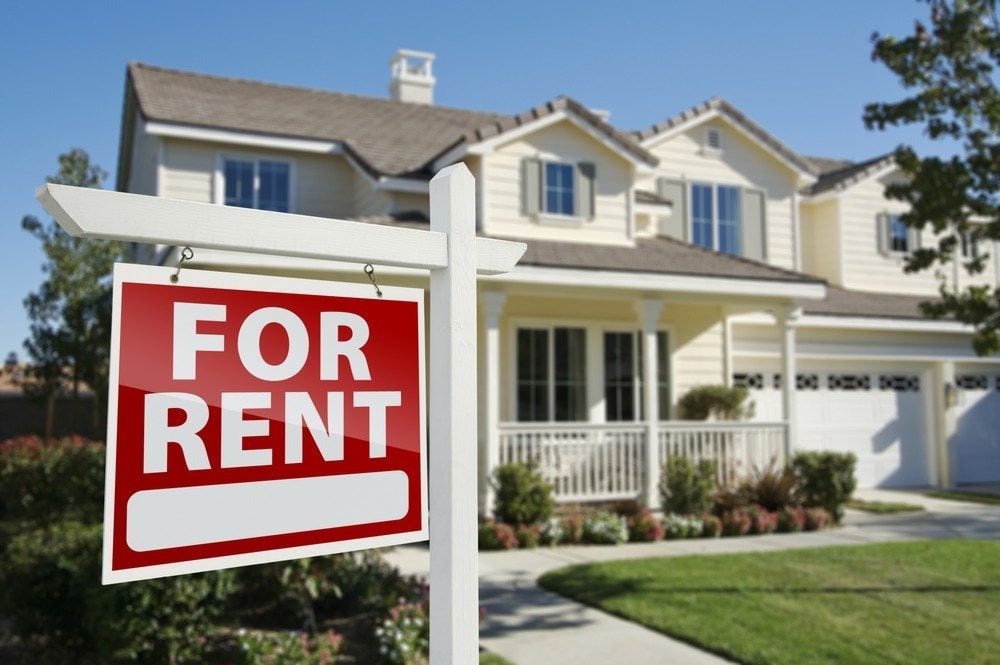 Home for rent image via Shutterstock.
Today, Invitation Homes is the largest single family rental owner in the U.S. and claims to have more than 80,000 properties in 17 markets. The company — which in 2017 both went publicand merged with other big institutional landlords — is owned by the Blackstone Group, a massive private equity firm based in New York City.
After Invitation Homes, American Homes 4 Rent is the second largest institutional landlord-investor. The company says it owned approximately 52,783 single family properties as of the end of 2018, and it went public in 2013.
Other institutional landlords include Pretium Partners, which backs the consumer-facing Progress Residential and claims to own 27,400 homes; Tricon American Homes, which claims17,000 residences across nine states; and Cerberus Capital management, which owns more than 18,000 single family homes and is upfront about how it moved to "acquire distressed residential mortgage-backed securities following the Global Financial Crisis."
A handful of other big, institutional landlords own thousands of other single family rentals as well.
Blomquist said the growth of these companies stands in contrast to the pre-Recession market, which, while it had investors, was still dominated by mom-and-pop landlords who ran as much as 80 percent of U.S. rentals. Now, however, Wall Street has "taken a bigger share of that investment market," Blomquist added.
"People had done it before," he continued. "But much more on a small scale, and much more on a regional scale. I think what's different now is that slice of the market that's institutional and national in scale."
Institutional landlords are controversial
The rise of big landlords has been one of the most controversial parts of Wall Street's recent involvement in real estate. The report from 2018 describes the big institutional landlords as turning the American dream into a "nightmare" for, among other things, maintaining higher eviction rates and aggressively pushing up rents. These trends have been covered extensively in the media in recent years, fueling a debate about whether or not Wall Street investors are really best equipped to oversee places where people actually live.
Julia Gordon is among those who sees the rise of institutional investors as troubling. She was critical of what she described as Wall Street driving "the housing market into a ditch," then coming in and profiting on the crisis while the "typical American families had no cash due to having been wiped out."
"Wall Street was still there with cash," she said. "So with the cash they went and bought up all these houses that were at insanely affordable prices after the bubble burst."
Gordon went on to argue that shelter is a "critically important" social need "that should be managed by people who understand housing policy." Institutional landlords, however, are less likely to be invested in things like local schools, parks, and the long-term health of a community.
"No big institutional player is persuading me that they have the interest of the public at the heart of what they're doing," she said. "They're just returning value to their investors, shareholders, whatever."
But not everyone sees the rise of institutional landlords as a problem. Responding to criticism last year, Invitation Homes COO Charlie Young told Reuters that his company tries to respond promptly to maintenance requests. He also argued that the company's business model gives people "a housing option that didn't exist before," enabling them to live in good communities where they might not be able to afford to buy.
An Invitation Homes spokesperson also disputed criticisms, saying in an email to Inman that the company sets rents "in line with broader market rates, including data from third-party sources."
"Our homes present an affordable way for individuals and families to live in high-quality homes in great neighborhoods that are close to good schools and jobs," the spokesperson said. "On a per-square-foot basis, our lease prices are on average 38 percent lower than multifamily rental housing across the same markets."
The spokesperson said other advantages of Invitation Homes include the company's 24/7 service capabilities and the flexibility it affords renters to live closer to work or amenities.
Blomquist took up a middle ground, saying he was familiar with the "horror stories" and believes that "early on there were a lot of mistakes made by the institution investors." But he also added that larger corporations may also have some advantages, such as scale that allows them to do "maintenance on your home in a more streamlined manner."
In any case, institutional landlords don't show any signs of going away and remain one of the most important parts of Wall Street's play in the real estate space.
Wall Street's other plays
The types of investment happening now are as varied as the types of real estate available to purchase, but a few other trends are worth specifically noting here. For example, multiple companies offer short-term "fix-and-flip" mortgages that allow people to get financing for homes they plan to renovate and then resell. More provocatively still, a handful of these entrepreneurs, led by lender LendingHome, have figured out how to package those short-term loans into securities, which can then be sold to other investors — much as is done with conventional mortgage backed securities.
Wall Street has jumped into the construction business as well. In recent years, for example, surging home prices have reduced the ability of institutional investors to buy up single family homes on the cheap. And as a result, some of those investors have resorted to building their own homes that they then plan to rent out.
Retail giant Amazon has also invested in a prefab home-building startup, and of course Katerra (see above) is spending its mountain of Softbank cash on both technology and on-the-groundinnovations.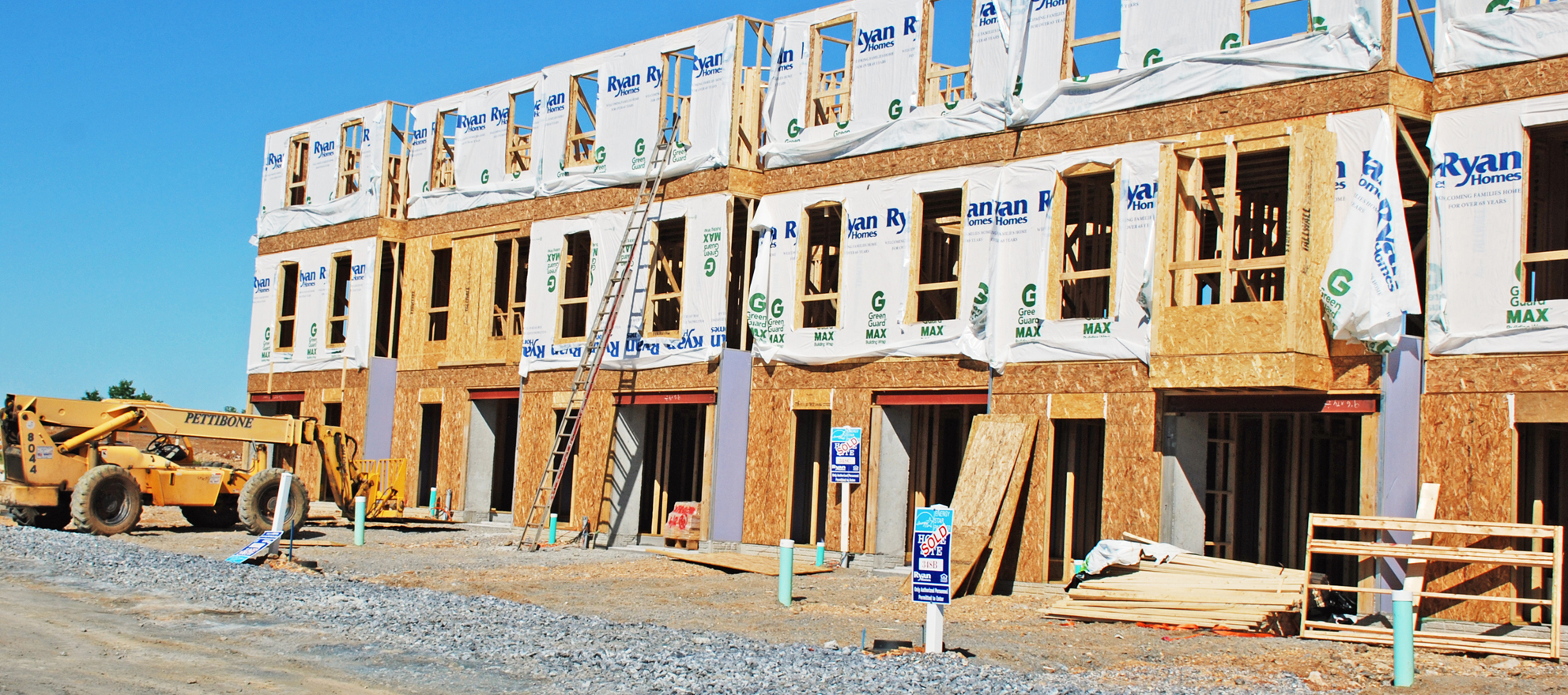 Julie Clopper / Shutterstock.com
The boundaries between investment categories can also get blurry. For example, Blomquist said that data shows properties sold by iBuyers are increasingly "going to institutional rental investors." He estimated the total share at about 10 percent.
Cerberus Capital Management, in particular has been a top purchaser from iBuyers.
Blomquist also pointed to Roofstock, a company that has attracted millions of dollars in funding and offers both institutional and retail investors a means to put money into single family rentals. The company is an example of how auxiliary services have sprung up to "feed the single family rental beast."
ALRIGHT SO THERE'S A TON OF MONEY FLOWING INTO REAL ESTATE. WHY?
The simplest answer is because there's an opportunity.
"If you're going to raise big funds and make big bets then you have to go to the places where the most opportunity is," Aaron Block, co-founder and managing director of venture capital firm MetaProp, told Inman.
Block went on to say that the real estate industry is entrepreneurial, but historically also slow to change. And that means that over time, demand kept building and building.
"That bottled up demand was set to explode," he said. "By most people's estimate this has been long overdue."
Russ Cofano, a real estate podcaster and former president of eXp World Holdings, said that investors see an opportunity in real estate and are pouring money into numerous ventures in an attempt to "hedge bets." Though he stressed that conventional Wall Street investors and venture capitalists generally have different strategies — the former wants predictability while the latter wants to strike gold with a startup — they're both trying to cash in at the moment.
"Generally speaking money chases opportunity," Cofano added.
Most of the people who spoke with Inman for this story made similar points, noting that home sales involve such large quantities of money that they are irresistible for investors. The temptation to get into the real estate sector becomes even stronger when there's the prospect of scaling up and dealing with hundreds or thousands of transactions. In those scenarios, even if margins are low (as they are with, say, iBuying) the potential for profit is enormous.
"I think the reason is people realized that we're just at the tip of the iceberg for all of the different ways that real estate can be disrupted," Jake Fingert, a principal at venture capital firm Camber Creek, told Inman.
But that doesn't really explain why this is happening now, at this moment in time, and not years ago or years in the future.
Block, however, offered a few possible explanations. For one thing, there have been accelerator programs in recent years — including one created by his own firm and another run by the National Association of Realtors — that have prepared and boosted innovators to a point that they're ready to take on large investments.
"You're starting to see thought leadership, of research, of innovation all coming together at the same time," he added. "There's just a critical mass of momentum."
Block also pointed specifically to WeWork, saying the company's success helped legitimize investment in other businesses that synthesize real estate and technology. It was a game-changer.
"That has really opened a lot of non-believers eyes," Block added.
Another factor driving money into real estate at this particular moment is data, according to Cofano.
"In residential real estate, fundamentally nothing could happen until the data was set free," Cofano said. "As long as the data resided within the collective control of the brokerage companies, within the MLSs, there could be no broad based innovation."
Cofano sees Zillow, which was founded in 2006, as a pivotal force in "freeing" data, making it more accessible and paving the path for other innovators who would go on to be a part of today's real estate technology spree.
"It was a significant force in the democratization of data," Cofano added of Zillow.
Gough, of GCA Advisors, said this democratizing of information by portals forced people in the real estate industry to respond in innovative ways.
"As technology has allowed consumers to become more independent in their home search," Gough told Inman, "agents, brokers, lenders and other market participants (insurance, mortgage, etc.) have had to develop technology tools to engage with consumers digitally in order to make the transaction process more efficient."
Chawla sees a similar trend, with existing players realizing that the startups were coming to eat their lunch.
"It's actually the incumbents who quickly realized that they were being caught flat footed," he added.
Finally, Gough noted that the availability of more data has spawned "new market opportunities" for other companies that can come in and analyze information at scale. In other words, it's a kind of snowball effect. Gough specifically pointed to the example of Cape Analytics, which works with the insurance industry and applies artificial intelligence to property data.
And like many other AI-focused real estate companies, Cape Analytics has been the recipientof millions of dollars in venture capital.
WHAT DOES THIS MEAN FOR AGENTS AND CONSUMERS?
Because the types of investment are so diverse, it's tough to say if all of this is really a good or bad thing. The jury, for example, is still out on what institutional investors are doing for rentals (at least depending on who you ask).
Most of the people interviewed for this essential guide, however, felt that in the technology space increased investment at least has the potential to be a boon. Fingert, of Camber Creek, argued that real estate is still too reliant on paper-based processes and Microsoft Excel spreadsheets. It's an expensive ordeal, he said, and if technology can smooth it out that should ultimately be beneficial.
"Companies can come in and purely through automation make real estate better, faster, cheaper," he added. "I think a lot of the evolution that will happen will be instead of machines taking humans' jobs, humans will have more time and energy to put into value added services."
Fingert floated the example of developers who work on sustainability. Right now, he said, that job requires pouring over databases. But as automation slowly takes over that job, the humans are able to think more creatively about sustainability.
"What we're finding is that the heads of sustainability, instead of doing the number crunching, they're having conversations about increasing sustainability," he said. "They're able to take a much more proactive, value-added approach."
But Fingert's comments about the relationship between humans and machines are also a nod to some uneasiness over what all this investment is going to do for real estate professionals. The iBuying industry is a perfect example: fueled by hundreds of millions in venture capital, the iBuyers have built a model that can easily cut real estate agents out of the equation, even if they claim that's not what they want to do.
Either way, big investors do see more disruption on the horizon, which could portend hard times for some agents. Last fall, Andreessen Horowitz general partner Alex Rampell argued at a summit in Los Angeles that buying a house is a "terrible experience" that stands to be improved by the convergence of big money and high technology. Significantly, Rampell observed that it would be "hard for individual real estate agents" to compete with some technologies, such as Zillow's Zestimate, that have emerged in recent years.
And Rampell's presentation was titled (somewhat ominously) "when software eats the real (estate) world."
(Rampell and Andreessen Horowitz declined to speak with Inman for this story, citing scheduling conflicts.)
Still, the overarching theme that everyone stressed was that this is the beginning of the story of Wall Street's latest foray in real estate, and that story still has many more chapters to come.
"We're very much in the early innings here for disruption for the industry," Chawla said. "And I think we'll continue to see it as long as some of the underlying fundamentals continue to remain."
written by Jim Dalrymple ll – Inman News
U.S. Real Estate Market Shows Symptoms of Coronavirus Effect: What You Need to Know
The deadly outbreak of the coronavirus from China, which has sickened thousands around the world and terrified millions more, is taking a toll on global financial markets as well—and the effects are likely to extend to the U.S. luxury real estate market.
While there are only 11 confirmed cases of the virus on American soil, the U.S. housing market is already feeling the effects of what could soon be declared a pandemic. Mortgage interest rates have dipped, and the already sluggish luxury real estate market has depended in recent years on an injection of Chinese buyers.
"China has been the most important source of foreign demand for real estate," says Lawrence Yun, chief economist at the National Association of Realtors®. Wealthy Chinese buyers often purchase luxury properties, such as high-rise condos, in California and New York. "The upper-end market can expect to be softer as a result."
Buyers from China spent about $13.4 billion on U.S. homes from April 2018 through May 2019, according to the NAR's most recent data on foreign buyers. While that may sound impressive, it actually represents a 56% drop from the previous 12-month period. Chinese buyers have been spending less on U.S. real estate as their government has tightened rules on how much money can leave the country, U.S. immigration rules have tightened, and trade talks between the two nations have heated up.
But with the temporary ban on any foreigners who have been in China in the past two weeks, and cancellations of many flights from China to the U.S., a lot of would-be Chinese buyers can't get into America, putting any home-purchase plans they may have on ice.
"You have less incentive to buy real estate if it's unclear if and when you'll get to visit the property," says Chief Economist Danielle Hale of realtor.com®. "In the short term, the virus could dampen [luxury] sales further."
Why is the coronavirus pushing down mortgage interest rates?
It may seem perplexing that a virus that originated in China (and where most of its nearly 500 fatalities occurred) could result in lower mortgage interest rates an ocean away. Thank globalization. China is the world's second-largest economy, with a worldwide supply chain. So what happens there affects businesses around the world, which then affects global financial markets. Amid market turmoil, investors tend to pull money out of the stock market and park it in safer, more stable U.S. Treasury bonds. And when bonds are strong, mortgage rates fall.
Rates dipped 9 basis points to 3.51% for 30-year fixed-rate loans as of Jan. 30, according to Freddie Mac. The panic surrounding the disease could keep them low, or even push them lower. The only thing in recent memory to compare it with is the outbreak of severe acute respiratory syndrome, or SARS, in late 2002 and early 2003. During the resulting panic, mortgage interest rates also dipped.
"SARS was barely a blip in the U.S. real estate market," says Yun. But there weren't nearly as many Chinese buyers shopping for homes in the U.S. back then. "We don't know what's going to happen."
There could also be a downside to lower rates—while they will likely spur more buyers to get into the market at a time when buyer activity is already ramping up, sellers may respond by boosting their list prices.
Short-term effects: The luxury market could slow on the coasts
Recently, the luxury market hasn't been in the best of health—and some folks fear the coronavirus scare could cause a relapse. The market was just beginning to pick back up, as buyers enticed by low mortgage rates were beginning to pick up pricey properties again. Then the virus hit.
(Realtor.com defines luxury as $1 million-plus homes in most of the country, although that threshold can be higher in the most expensive cities like New York and San Francisco.)
Real estate broker Amy Kong is seeing fewer folks attending open houses marketed toward Asian buyers. Kong is a real estate broker at Realty World Advance Group in San Bruno, CA, and the president-elect of the Asian Real Estate Association of America.
"People would rather not go out and mingle," says Kong, who has heard some closings had to be postponed. "The buyers can't be here physically to sign. They have to make other arrangements."
That won't be too catastrophic, though, as many of these affluent foreign buyers have representatives in the U.S. who can act on their behalf and usher through the paperwork.
Some wealthy non-Asian buyers, on the other hand, are worried about their prospective neighbors.
"Clients looking at new condos are asking us what is the percentage of Chinese living in those buildings," says luxury real estate broker Dolly Lenz, who is based in New York but sells properties around the country. Three unrelated clients asked her this question, which she was legally unable to answer due to fair housing laws. "That was shocking to me."
But Patrick Carlisle, chief market analyst for the San Francisco Bay Area at Compass, believes concern about the coronavirus affecting real estate sales is overblown.
"I don't think it will have any impact unless it turns into a worldwide disaster," he says. "People locally, I can't see them changing their plans one way or another unless it gets much worse."
Long-term effects: The U.S. luxury market could see a boost
While the outbreak may make it more difficult for Chinese buyers to pick up U.S. properties for now, it could be a boon for the luxury market in the long term.
"[Chinese] people who are wealthy may feel tired of the perception of China as being a third-world country," says NAR's Yun. "They want to park their money in a first-class world economy, which is Australia, Canada, and the U.S. Hence, we may see greater demand from Chinese, wealthy households."
For example, more buyers from Hong Kong came to the U.S. looking for real estate after anti-government protests began last year in the territory. Since the coronavirus outbreak, luxury broker Lenz is seeing them become even more motivated to acquire a U.S. property. These affluent buyers are worried about medical care, strikes, and more unrest back home, and are looking to the U.S. as a safer option.
Chinese buyers may flock to the U.S. again for the same reasons. But once the virus is under control, the real estate market will likely go back to normal, more or less.
"I look at this as something that will last as long as the virus does," says New York City–based real estate appraiser Jonathan Miller. "We're uncertain about everything, and this is just another item to fret about."
Story written by: By Clare Trapasso | Feb 6, 2020 REALTOR.com
5 Cutting-Edge Home Design Trends to Keep an Eye on in 2019
From farmhouse chic to 'Wellness Real Estate,' the styles and design trends you're sure to be seeing everywhere
By Marian McPherson – Staff Writer
As the new year draws near, homeowners everywhere are thinking about how to refresh their abode — whether it's buying a new set of pillows and throws for the living room or a complete renovation of a kitchen.
And sellers may be even more inclined to invest in a redo since something as simple as a fresh coat of paint can boost a home's value by as much as $5,400, according to a Zillow report.
Before going total HGTV, HomeAdvisor home expert and smart home strategist Dan DiClerico says homeowners and sellers should realize that home design trends, unlike consumer fashion, tend to have a longer life since most people tend to do complete overhauls only every 10 to 15 years.
"In general, home design trends tend to move pretty slowly," he said. "It's different from the world of fashion where you have whole new clothing looks coming out every year."
Houzz editor Mitchell Parker echoed DiClerico, saying it's important to note that design is very personal and that often times a buyer not liking a kitchen backsplash or your bedroom's paint color isn't going to make or break a sell.
"For example, backsplash tile is a relatively low-cost project, and let's say a future homebuyer was touring the kitchen and thought, 'This backsplash really isn't for me,' I don't think [the sale] is going to become a no-go," Parker said.
With those ideas in mind, here's what designers are looking forward to in 2019:
Black and White Kitchens
You can never go wrong with black and white (Photo credit: Marko Poplasen for Unsplash)
In 2017, Zillow Digs named tuxedo kitchens one of the top trends, and according to Parker, they're not going anywhere soon. "It's a cliche to say that black is back," he said. "But it's always classic and it's always popular." He says a black accent wall creates a striking contrast when matched with white cabinets and countertops.
Blended Spaces
Open up your living room with large, glass sliding doors. (Photo credit: Andersen Windows)
Blended spaces, the idea of connecting indoor and outdoor spaces, emerged in 2017 and is expected to really take hold in 2019 said Houzz's Julie Noble. According to Noble, buyers are looking for kitchens that offer easy access to a backyard patio, which is perfect for entertaining. This is usually achieved by installing large, glass sliding doors. If your kitchen doesn't allow for that, no worries — it works just as well in the living room.
Add a Pop of Color with "Living Coral"
Don't want a wall full of Living Coral? Use it in your decor. Photo credit: Houzz
DiClerico says one of the easiest ways to bring life to a new space is through repainting. He says Pantone's Color of the Year choices are always a good starting place for inspiration, and that Pantone's 2019 choice, Living Coral, will be a favorite amongst homeowners. Not inclined to use such a bold hue? He says blues, greens, and pastels are also gaining traction.
Farmhouse Chic Exteriors
Create a farmhouse look with white siding. (Photo credit: Houzz)
Feeling a little country? Lucky for you, the farmhouse trend is going strong, especially with exterior home design. The board and batten method siding (gapped wide vertical siding boards with narrow overlying vertical battens to cover the gaps) gives your home a vintage, farmhouse look. Keep it fresh with gleaming, white paint and pops of dark-stained wood.
Not willing to invest in a new exterior? Bring the farmhouse look indoors with reclaimed wood, neutral color schemes with pops of green and blue, and geometric patterns.
Using Smart Home Technology to Improve Health
Samsung's SmartHub fridge connects health and nutrition apps. (Photo credit: Samsung)
Home ProjeKt, a Hanley Wood Builder Concept Innovation and Learning program, says homeowners are increasingly looking for ways to improve their overall health starting with what's in their homes.
"Hanley Wood's research reveals a fundamental shift among consumers towards embracing a concept we call 'Wellness Real Estate' because they see their homes as an invaluable asset in supporting their physical and emotional well-being," said Barbara Spurrier, managing director of the Well Living Lab, in an emailed statement.
Spurrier noted that homeowners are investing in lighting systems that help regulate sleeping rhythms, smart appliances that connect to health and nutrition mobile applications, and indoor food gardens.